4th edition of the ReSMiQ Innovation Day – RID2015
On October 19th the participants in the 4th edition of the ReSMiQ Innovation Day gathered at the École de technologies supérieure (ÉTS) to attend the keynote speeches, the panel discussion and several technical demonstrations. This annual event organized by our center aims to give visibility to the research work done by graduate and undergraduate students of the province of Quebec in the field of microsystems. Exceptionally for this edition, ReSMiQ joined forces with the IEEE Circuits and Systems Society through its Outreach Initiative Event program sponsoring the RID'15 to organize an imposing event during which internationally renowned experts presented their most recent developments in the field of circuits and systems. We wish to thank Professor Andreas G. Andreou, from Johns Hopkins University, Professor Giancula Setti, from University of Ferrara in Italy, and Professor Viktor Gruev, from the University of Washington in St-Louis for their involvement.




We also thank all the participants for this success, and particularly Sonia Dominique from the department of electrical engineering of the ÉTS for the welcome and invaluable logistic support.
Students at all levels (CEGEP, university undergraduate and graduate) showed their scientific and technical expertise during a competition through experimental demonstrations to a jury constituted of many experts. The three best projects in each category were awarded special prizes as well as a special award from the IEEE CAS society. This year, 10 projects were presented including one from the Lionel Groulx College in Ste-Thérèse affiliated with CIMEQ. We thank all the students who submitted their project as well as congratulate the winners. We hope to see more new innovations for the next edition.
Undergraduate level winners
1e – Alexandre Salconi-Denis, Collège Lionel-Groulx
2e – Frédérik Dubois, Université de Sherbrooke
3e – Nataly Arraiz Matute, Université Concordia
Graduate level winners
1e – Gabi Sarkis et Pascal Giard, Université McGill
2e – Nicolas Roy, Université de Sherbrooke
3e – Samuel Parent, Université de Sherbrooke
IEEE CASS special award
Frédéric Nolet, Université de Sherbrooke


From left to right: F. Nolet, A. Salconis-Denis, F. Dubois, S. Parent, N. Roy, G. Sarkis.
ISCAS2016 – Call for contributions and submission of articles
The organization of the next edition of the IEEE International Symposium on Circuits and Systems (ISCAS2016) is progressing and we have achieved the first milestones in terms of contribution of communications. More than 1300 articles have been submitted from 50 countries and will be reviewed in order to reach a final selection that will be announced on January 11, 2016. More details
ReSMiQ and IEEE-SSCS Montréal seminar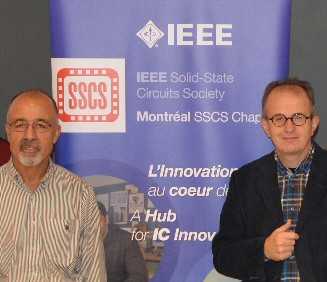 Eric Klumperink from the University of Twente, Netherlands presented a seminar entitled "Cognitive Radio Transceiver Chips" at Polytechnique Montréal, organized as part of our continuing training program in collaboration with the IEEE Montréal's chapter of the Solid State circuit society (SSCS). See the abstract
NEWS FROM OUR MEMBERS
Exposure
– Dr. Roy from Université de Sherbrooke welcomes Dr. Maryline Hélard from INSA Rennes, France.
– Dr. Sawan from Polytechnique Montréal offered a keynote talk at EEE-ISBB 2015 and co-chaired this conference held in Beijing, China. More details
– Dr. Sawan from Polytechnique Montréal offered 2 invited seminars, at SJTU-Paristech Elite Institute of technology in Shanghai, China, and at the School of Microelectronics in Shanghai Jiao Tong University.
More details for SJTU / More details for Jiao Tong U.
Achievement
– Dr. Massicotte from Université du Québec à Trois-Rivières received an ENGAGE PLUS grant from NSERC with Simaudio Inc.
– G. Nabovati, Ph.D. candidate supervised by Dr. Sawan from Polytechnique Montréal won the Brian Barge award, the most prestigious award at the annual CMC Microsystems TEXPO competition. More details
Involvement
– Dr. Sawan from Polytechnique Montréal organized a special session at the IEEE-ICUWB conference held in Montréal.



RESMIQ'S ACTIVITIES
Scholarship competition
Financial support for graduate students
APPLICATION DEADLINE: November 9, 2015
More details
---
SIGNAL is the main monthly information medium of the Microsystems Strategic Alliance of Québec (ReSMiQ). This newsletter aims to be an active link between the members of ReSMiQ and all individuals who have an interest in research and innovation in microsystems. We commit ourselves to promote in it our members' research and increase ReSMiQ's visibility.
ReSMiQ is a group of researchers in an interuniversity research center that can count on the support of the Fonds de recherche du Québec – Nature et technologies (FRQNT) and ten (10) Quebec universities involved in microsystems research.