Financial support of our strategic cluster
The management team of ReSMiQ was expecting the decision of the Fonds de recherche du Québec – Nature et technologies (FRQNT) pertaining to the grant renewal application for our strategic cluster. The FRQNT recently inform us about the decision to renew ReSMiQ for the next 6 years with an annual contribution of $432,000.00. During the renewal process the ReSMiQ received the highest score for each evaluation criteria and the highest amount granted by the FRQNT in the 2015-2016 contest. The center's management would like to thank everyone who has contributed in the growth of ReSMiQ and provided a significant effort in the production of this application. More details

Microfluidic day at Université Laval (May 27)
The ReSMiQ is proud to support local initiatives for training and dissemination of knowledge activities. The latest is the microfluidics half day held at Université Laval on May 27 and co-organized by Dr. Miled, in order to promote research in microfluidics. This event was also sponsored by CMC Microsystems and Quebec Section of the IEEE. The program included a poster presentation session, invited talks offered by professors Miled, Greener, Larachi and Taghavi, a presentation by B. Mallard CMC, a keynote talk offered by David Juncker from McGill, and finally a panel session on the theme of the establishment of a first workshop on microfluidics in Quebec. More details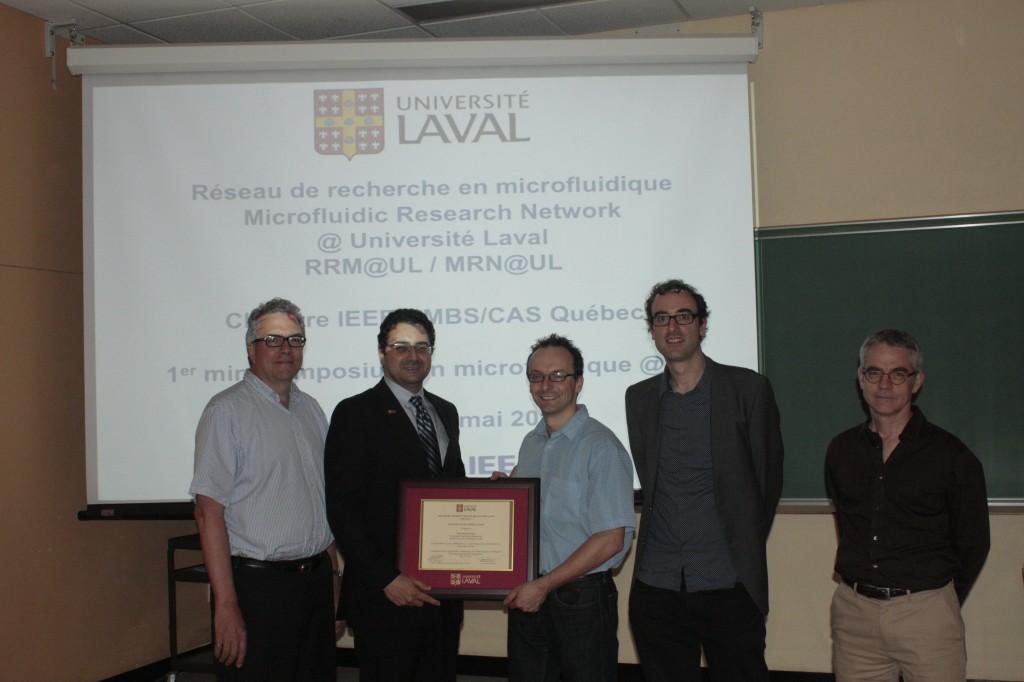 From left to right: Paul Fortier, Président IEEE-Québec, Amine Miled Co-président du réseau de recherche en microfluidique à l'université Laval et du chapitre IEEE-EMBS/CAS Québec, David Juncker, Conférencier invité de l'Univ. McGill, Jesse Greener, Co-président du réseau de recherche en microfluidique à l'université Laval, Robert Mallard, CMC Microsystèmes.
2015 ReSMiQ's annual symposium (May 29)
We held our annual symposium during the 83rd Sawan from Polytechnique Montréal and professor Bahoura from Université du Québec à Rimouski. It was a real pleasure and with great enthousiasm that we welcomed our guest speakers, including professor Wei Shi of the Université Laval and professor Bahoura, and all 30 participants who attended this edition. On this occasion, members of ReSMiQ presented their research and exchanged views on several issues related to microsystems. Seventeen students participated in the scientific posters competition, and the judges were impressed by the high quality of the work presented. Furthermore, 3 of them have received awards for their excellent presentations. We take this opportunity to invite you to be part of our next annual symposium within the next conference of ACFAS to be held in Montréal at UQAM on May 2016. Detailed program
ReSMiQ intensive course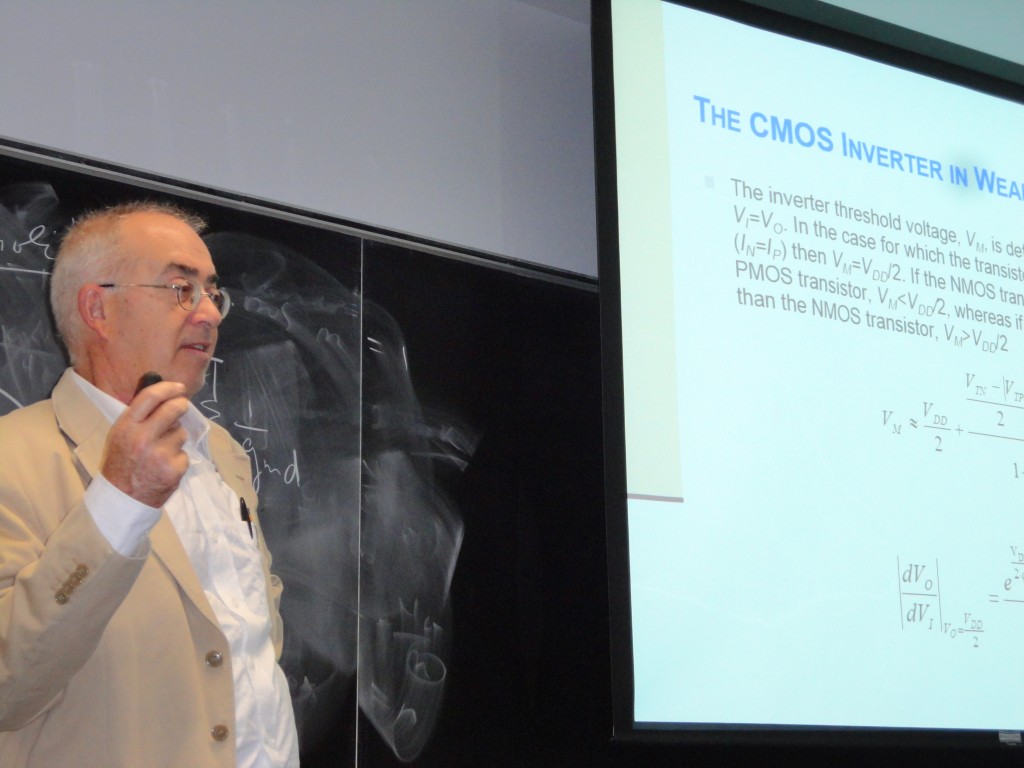 Pr. Carlos Galup Montoro from the l'Universidade Federal de Santa Catarina in Brazil presented the intensive course entitled "Ultra-Low-Voltage (ULV) IC Design" at Polytechnique Montréal, organized as part of our continuing training program in collaboration with the IEEE Montréal's chapters of the Solid State Circuit Society (SSCS) and the Circuits and Systems Society (CASS). See the abstract
NEWS FROM OUR MEMBERS
Exposure
– Dr. Sawan from Polytechnique Montréal offered two keynote speeches at the 6th MCETECH conference on e-technologies (Montréal) and the CIIA'2015 conference (Algeria). Details for MCETECH / Details for CIIA'2015
Achievement
– Dr. Fréchette from Université de Sherbrooke is supervising Andréane D'Arcy-Lepage and Mahmood R. S. Shirazi who respectively won the second place of the undergraduate student expo and the audience choice award at the ASME-IMECE, held in Montréal.
– Dr. Miled from Université Laval is supervising Adnane Kara who won the ReSMiQ-CMC award of the best scientific poster at the 1st Microfluidic Day held at Université Laval in Québec City.
– Dr. Sawan from polytechnique Montréal received the Shanghai Municipality International Collaboration Award. More details

– Dr. Gosselin and Dr. Shi from Université Laval, Dr. Sawan and Dr. Savaria from Polytechnique Montréal, and 4 other colleagues received financing from the innovation fund of the Canada Foundation for Innovation for the development of shared research infrastructures at Université Laval.
– Dr. Izquierdo, Dr. Deslandes, Dr. Nabki and Dr. Boukadoum from Université de Québec à Montréal, received financing from the innovation fund of the Canada Foundation for Innovation for the project "Plateforme pour la conception, la caractérisation et l'intégration de dispositifs nanoscopiques dans des microsystèmes".
– Dr. Massicotte from Université du Québec à Trois-Rivières received an ENGAGE grant from NSERC with Simaudio.com.
– Dr. Gosselin and Dr. Miled from Université Laval were awarded the prize for best new chapter 2015 from the IEEE Engineering in Medicine & Biology Society for the IEEE CAS/EMB Quebec Chapter.


RESMIQ'S ACTIVITIES
Scholarships and awards
– Microsystems Experimental Demonstration Competition
Undergraduate and graduate students are invited to demonstrate their scientific and technical expertise during the 4th edition of the ReSMiQ Innovation Day by submitting their project. More than 5 000$ in awards.
APPLICATION DEADLINE: June 10, 2015.
More details
---
SIGNAL is the main monthly information medium of the Microsystems Strategic Alliance of Québec (ReSMiQ). This newsletter aims to be an active link between the members of ReSMiQ and all individuals who have an interest in research and innovation in microsystems. We commit ourselves to promote in it our members' research and increase ReSMiQ's visibility.
ReSMiQ is a group of researchers in an interuniversity research center that can count on the support of the Fonds de recherche du Québec – Nature et technologies (FRQNT) and ten (10) Quebec universities involved in microsystems research.