FRQNT Strategic cluster grant renewal
On October 28th ReSMiQ filed its application for renewal of the strategic grouping subsidy program FRQNT. Management wishes to thank all of our colleagues affiliated to ReSMiQ's partner universities who have worked hard to ensure a significant increase of the contribution from their respective institutions. We also thank Marie-Yannick Laplante, Eric Legua and Arnaldo Mendez for the sustained effort they provided to help produce an application of quality and delivered on time. We are now preparing to welcome the visiting committee in late January 2015.
2014 ReSMiQ's annual symposium
We held our annual symposium during the 82nd ACFAS conference. It was organized by Professor Mohamed Ait at the Concordia University. It was a real pleasure and a great honor to welcome our guest speakers, including professor Atienza of the École Polytechnique Fédérale de Lausanne, and all 30 participants who attended this year. On this occasion, members of ReSMiQ presented their research and exchanged views on several issues related to microsystems. Twelve students participated in the scientific posters competition, and the judges were impressed by the high quality of the work presented. In addition, 3 of them have received prizes for their excellent presentations. We take this opportunity to invite you to be part of our next annual symposium in 2015 to be held within the next conference of ACFAS to be held in Rimouski at UQAR on May 26, 2015.
Prof. David Atienza, École Polytechnique Fédérale de Lausanne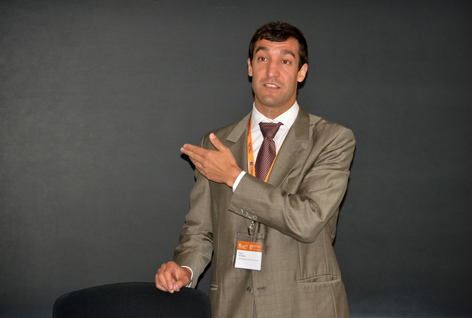 Panel of experts (from left to right): M. Boukadoum (UQAM), D. Atienza (EPFL),
C. Thibeault (ETS), S. Tahar (Concorida), D. Tassé (RIE), Y. Savaria (EPM).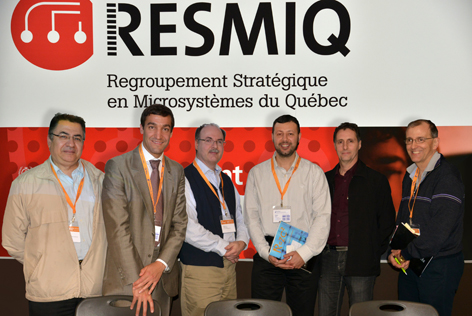 12th edition of the IEEE International NEWCAS conference
It is with great pride that we hosted the 12th edition of the international conference IEEE-NEWCAS, which took place from June 22 to 25 in Trois-Rivières, at the Delta Hotel. Launched in 2003 in Montreal, under the sponsorship of the IEEE Circuits and Systems society (CAS), it has progressively grown to become a major meeting event and is now a full-fledge IEEE conference. This world-class conference returned to Québec after a 3rd edition across the Atlantic in Paris (France) in 2013, after Bordeaux (2011) and Toulouse (2009). This 12th edition offers the opportunity to strengthen the relevance of this conference, to measure the progress after more than 10 years of scientific innovations. We have met with remarkable success with over 180 participants from over 20 countries. Note that the acceptance rate of 48% allowed the conference to achieve a remarkable level of quality. The broad spectrum of research topics covered this year attracted 236 entries from twenty-nine countries. These were sorted and evaluated by more than 350 members of the technical committee and external reviewers who conducted in-depth evaluation of each paper. The final selection has resulted in the presentation of 87 articles in technical sessions and 34 in poster sessions. It was also a great honor to welcome the world renowned speakers who shared their knowledge and their expertise with the participants. We congratulate all the members of the organizing committee for this success and we also take this opportunity to thank the sponsors for their support. It is in this spirit that we look forward to seeing you next year in Grenoble, France, from 7 to 10 of June, 2015, for the 13th edition.
More details and the photo gallery on www.newcas.org/2014
IEEE-NEWCAS2014 Co-Chairs: M. Sawan (Polytechnique Montréal), D. Massicotte (UQTR).

Best student paper award & ReSMiQ award: (from left to right)
B. Moons (U. de Louvain), H. Le Duc (Telecom-Paristech), H. Sepehrian (U. Laval),
F. Farahbakshian (Oregon State U.).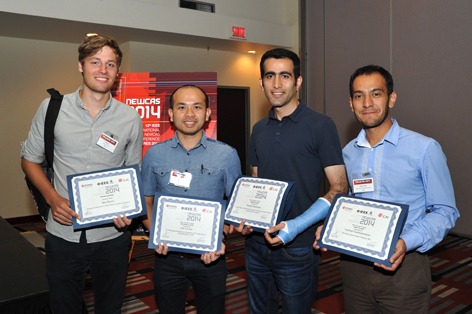 3rd edition of the ReSMiQ Innovation Day – JIR2014
On September 18th the participants of this annual event gathered at the Delta Hotel Montréal to attend the keynote speeches and the panel discussion involving representatives from academia and industry. This annual event organized by our center aims to give visibility to the research work done by the graduate and undergraduate students of the province of Quebec in the field of microsystems. Students at all levels have shown their scientific and technical expertise during a competition through experimental demonstrations in front of a jury constituted of many experts. The three best projects in each category were awarded special prizes. For this year 10 projects were presented including, for the first time, a project from the Lionel Groulx college in Ste-Thérèse affiliated with CIMEQ. We thank all the students who submitted their project as well as congratulate the winners. We hope to see more new innovations for the next edition to be held September 17, 2015.
Live technical demonstration competition winners (from left to right):
1e cycle: G. Morin-Laporte (UQAM), S. Ehouman (ETS), M.-A. Renaud (Lionel-Groulx)
Cycles sup.: F. Nolet (U. de Sherbrooke), S. Bounaffaa (ETS), S. Hached (Poly)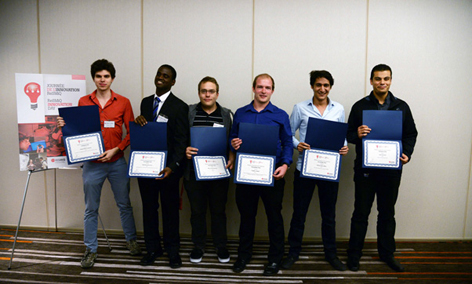 Thanks to all participants for this success!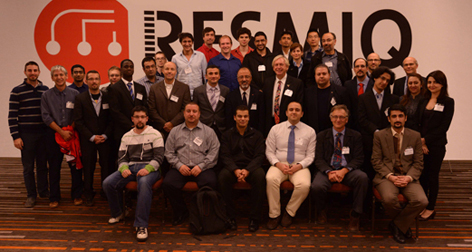 NEWS FROM OUR MEMBERS
Exposure
– Dr. Sawan from Polytechnique offered two keynote address at CITEF'14 (Lebanon) and ICESTI'14 (Algeria).
More details for CITEF'14 / More details for ICESTI'14
Achievement
– Dr. Gosselin from Université Laval received  an ENGAGE grant from NSERC with Aerostar R&D of Québec.
More details
– Drs. Sawan and Savaria from Polytechnique recived a strategic grant from NSERC.
– Dr. Martel from polytechnique has been elected Fellow IEEE.
– Dr. Sawan from Polytechnique was awarded the 2014 prize for excellence in research and innovation from École Polytechnique de Montréal.
More details
– Dr. Martel from Polytechnique received the Jacque-Rousseau award from ACFAS in partnership with the Fonds de recherche Québec.
More details: ACFAS / Carrefour de l'atu@lité
– Drs. Ajib from Université du Québec à Montréal (UQAM) and Thibeault from École de technologie supérieure (ETS) supervise T. Jalloul, master student, who received the award for best paper at the IEEE Digital Avionics System Conference.
– Dr. Sawan from Polytechnique in collaboration with colleagues in Brazil received the best paper award at LASCAS'14.


RESMIQ'S ACTIVITIES
Seminars
– ReSMiQ organized in collaboration with the Montréal Chapter of the IEEE Solid state circuits Society (IEEE-SSCS) on November 10, 3 distinguished lectures presented by Jan M. Rabaey from University of California Berkeley, Jacob R. Baker from the University of Nevada and Ullrich Pfeiffer from the Wuppertal University.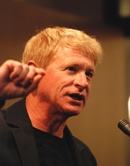 Speaker: Jan M. Rabaey, University of California Berkeley, USA
Title: The Innovation is in the Mind – The Converging Trajectories of IT, Neuro and Nano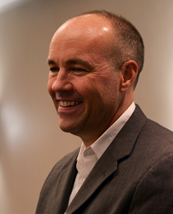 Speaker: Jacob R. Baker, Université du Nevada, USA
Title: K‐Delta‐1‐Sigma Analog‐to‐Digital Converters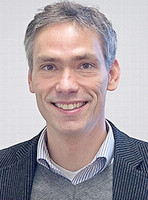 Speaker: Ullrich Pfeiffer, Université de Wuppertal, Allemagne
Title: K‐Delta‐1‐Sigma Analog‐to‐Digital Converters
Abstract and biography


Financial support and Scholarships
– ReSMiQ scholarship for graduate students
A 12 month scholarship of 10 000$ for M.Sc. students and
14 000$ for Ph.D. students.
APPLICATION DEADLINE: January 5 2015. More details
– ReSMiQ scholarship for post-doctoral fellow
A 12 month scholarship up to 20 000$ for post-doctoral fellow
APPLICATION DEADLINE: January 5 2015. More details
– supplementary scholarship for graduate students
A 5 month scholarship of up to 4000$ for graduate students currently
holding a scholarship of at most 21 000$.
APPLICATION DEADLINE: January 5 2015. More details
– Financial support for graduate students
A 12 month financial support of up to 4000$ for graduate students waiting
for a international or national scholarship.
APPLICATION DEADLINE: January 5 2015. More details
– Financial support for conference participants
Financial support for conference expenses to graduate students
attending international conferences..
APPLICATION DEADLINE: January 5 2015. More details
---
SIGNAL is the main monthly information medium of the Microsystems Strategic Alliance of Québec (ReSMiQ). This newsletter aims to be an active link between the members of ReSMiQ and all individuals who have an interest in research and innovation in microsystems. We commit ourselves to promote in it our members' research and increase ReSMiQ's visibility.
ReSMiQ is a group of researchers in an interuniversity research center that can count on the support of the Fonds de recherche du Québec – Nature et technologies (FRQNT) and ten (10) Quebec universities involved in microsystems research.