13th edition of the IEEE International NEWCAS conference
It is with great pride that several of our members participated to the organization of the 13th edition of the IEEE international NEWCAS conference, which was held from June 7 to 10 in Grenoble, at MINATEC. Launched in 2003 in Montreal, under the sponsorship of the IEEE Circuits and Systems society (CAS), it has progressively grown to become a major meeting event and is now a full-fledged IEEE conference. This world-class conference has been hosted for the fourth time across the Atlantic in France after Paris (2013), Bordeaux (2011) and Toulouse (2009). We have met with remarkable success with over 220 participants from over 45 countries. It is worth noting that the acceptance rate of 43.6% allowed the conference to achieve a remarkable level of quality. The broad spectrum of research topics covered this year attracted 321 submissions. These were sorted and evaluated by the members of the technical committee and external reviewers who conducted in-depth evaluation of each paper for a total of 1040 evaluations. The final selection resulted in the presentation of 95 articles in technical sessions and 39 in poster sessions. It was also a great honor to welcome world renowned speakers who shared their knowledge and their expertise with the attendees. These experts (3 keynotes) were: Joseph Sifakis (CRI Grenoble, France), Bram Nauta (Universiy of Twente, Netherlands) and Christophe Fourtet (SigFox, France). The awards for the three best students papers we presented to Ayssar Serhan, Estelle Lauga-Larroze and Jean-Michel Fournier (1st place); François Gaugaz, François Krummenacher and Maher Kayal (2nd place); Denis Sallin, Adil Koukab and Maher Kayal (3rd place). The ReSMiQ award was presented to Pere Llimós Muntal, Dennis Øland Larsen, Kjartan Færch, Ivan Harald Holger Jørgensen and Erik Bruun. We congratulate all the members of the organizing committee for this success and we also take this opportunity to thank the sponsors for their support. It is in this spirit that we look forward to seeing you next year in Vancouver, Canada, in June of 2016, for the 14th edition.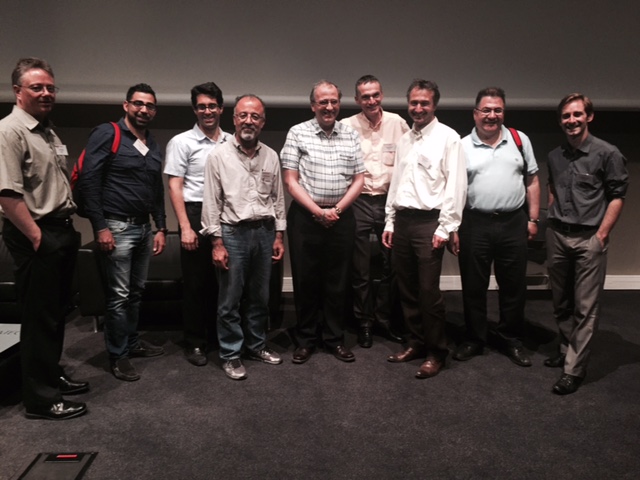 From left to right: Peter Stokes, CMC Microsystems (Industry liaison); Raafat Lababidi, ENSTA; Frédéric Nabki, UQAM (Track Co-Chair); Mohamad Sawan, Polytechnique Montréal (General Co-Chair); Yvon Savaria, Polytechnique Montréal (Track Co-Chair); Dominique Morche, CEA-Leti (General Co-Chair); Sylvain Bourdel, Univ. Grenoble Alpes (TP Co-Chair); Mounir Boukadoum, UQAM; Yannis Leguennec, Univ. Grenoble Alpes (TP Co-Chair).
NEWS FROM OUR MEMBERS
Exposure
– Dr. Sawan from Polytechnique Montréal offered a tutorial at ISCAS2015 in Lisbon, Portugal. More details
Achievement
– Dr. Boland of École de technologie supérieure is the head of the Department of Electrical Engineering since June 4th.
– Dr. Gosselin from Université Laval with two other researchers received a joint Collaborative Health Research Projects grant from NSERC and CIHR for the development of a novel wireless micro-optrode to improve the accuracy of brain research tools. More details
– Dr. Sawan from Polytechnique Montréal received an ENGAGE grant from NSERC with the company SIGNUM.
– Dr. G. Gagnon from École de technologie supérieure received an ENGAGE grant from NSERC with the company Convectair. More details

RESMIQ'S ACTIVITIES
Scholarships
Scholarships for graduate students
ReSMiQ Scholarship and supplementary scholarship
APPLICATION DEADLINE: September 8, 2015
More details
Scholarship for post-doctoral fellow
APPLICATION DEADLINE: September 8, 2015
More details
---
SIGNAL is the main monthly information medium of the Microsystems Strategic Alliance of Québec (ReSMiQ). This newsletter aims to be an active link between the members of ReSMiQ and all individuals who have an interest in research and innovation in microsystems. We commit ourselves to promote in it our members' research and increase ReSMiQ's visibility.
ReSMiQ is a group of researchers in an interuniversity research center that can count on the support of the Fonds de recherche du Québec – Nature et technologies (FRQNT) and ten (10) Quebec universities involved in microsystems research.