EDITORIAL
IEEE ISCAS2016
Our center is redoubling its efforts with only a few months remaining before ISCAS 2016, the flagship conference of the IEEE Circuits and System Society (CASS). The Technical Program Committee finalized the selection of papers and the conference program. The notification of selection was sent to all authors on January 11 and registration is now open. Note that sessions on CAS Transactions paper and Late Breaking News (LBN) are accepting submission of contributions until February 15. We encourage members of ReSMiQ to participate in great numbers. In addition, the social activities have been carefully designed to make this edition a memorable event. We invite you to regularly visit the website at iscas2016.org for details and updates.
IEEE NEWCAS2016
Note that the 14th edition of NEWCAS, in accordance with the principle of host country rotation, is returning to Canada in 2016 after being held in Paris the preceding year. Considering that Montréal will host this year's edition of the IEEE ISCAS international symposium, it was decided that this edition of NEWCAS will be held on Canada's west coast in Vancouver from June 26 to 29, 2016. The call for papers has been launched and the deadline for submitting articles is February 28. The executive committee of ReSMiQ encourages all members of the center to submit their recent work and to participate in great numbers.
NEWS FROM OUR MEMBERS
Achievement
– Dr. Gosselin from Université Laval is supervising the research of M.Sc. candidate G. Gagnon-Turcotte who received the MITACS 2015 Master's Award for outstanding innovation.
More details: ReSMiQ | U. Laval | MITACS | Video clip
Involvement
– Dr. Sawan from polytechnique Montréal is editor-in-chief of the IEEE Transaction on biomedical Circuits and Systems.
More Details


RESMIQ'S ACTIVITIES
Seminar
ReSMiQ and the Chapter of the IEEE Solid-State Circuits Society (SSCS) in collaboration with the IEEE Circuits and Systems Society (CASS) invite you to attend the following seminar to be held on February 12, 2016, at 10:00 am at Polytechnique Montréal.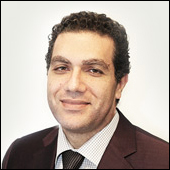 Speaker: Khaled N. Salama, KAUST, Arabie Saoudite
Title: Integrated Sensors
Abstract and biography
Scholarships and financial support
Financial support for graduate students
APPLICATION DEADLINE: April 4, 2016.
More details
Financial support for invited researchers
APPLICATION DEADLINE: February 22 2016.
More details
Financial support for collaborative research
APPLICATION DEADLINE: February 22 2016.
More details
---
SIGNAL is the main monthly information medium of the Microsystems Strategic Alliance of Québec (ReSMiQ). This newsletter aims to be an active link between the members of ReSMiQ and all individuals who have an interest in research and innovation in microsystems. We commit ourselves to promote in it our members' research and increase ReSMiQ's visibility.
ReSMiQ is a group of researchers in an interuniversity research center that can count on the support of the Fonds de recherche du Québec – Nature et technologies (FRQNT) and ten (10) Quebec universities involved in microsystems research.