CASS & ReSMiQ Innovation Day – RID2015
You are invited to participate in this annual event to be held on October 15th at Polytechnique Montréal. For this 4th edition, ReSMiQ join forces with IEEE Circuits and Systems Society (CASS) to lead this important event. This activity is organized by our center with a complementary financial support of the IEEE CASS to provide visibility to the research work of students from the province of Quebec in the field of microsystems. Both undergraduate and graduate students will demonstrate their scientific and technical expertise through a life demonstration contest before a panel of recognized experts. The three best projects in each category will be awarded cash money and certifcates. The call for projects generated many submissions that resulted in the selection of 13 projects, counting 5 from undergraduate students and 8 from graduate students. RID 2015 will also be an excelent opportunity to attend keynote presentations by three renown speakers who are Viktor Gruev, from University of Washington, Andreas G. Andreou, from John Hopkins University and Giancula Setti, from University of Ferrara in Italy. We thank all of the students who submitted their project. We invite you to regularly visit our web portal for more details. Call for project and preliminary program

The 17th Canadian Semiconductor Science and Technology Conference (CSSTC)
The 17th Canadian Conference on science and semiconductor technologies (CSSTC) was held in Sherbrooke, from August 16 to 21, 2015. Initiated in 1982, this conference covers many subjects such as materials, devices and applications. It allowed this community to network around topics of interest such as the manufacture of micromechanical devices and microelectronics, from nano and biotechnologies to the detectors used in medical imaging. The 138 participants, including 62 students, assisted at 3 plenary sessions, 14 invited presentations, 13 oral presentations, 40 posters, and 8 tutorials. These participants came from Canada, China, the US, France, and Germany. Visits were organized at C2MI and 3IT. The ReSMiQ sponsored the awards for best student presentations. Steffi Woo, from McMaster University, was awarded 1st place for its presentation entitled "Spontaneous Formation of Atomic Ordering in InGaN Alloys Nanowire Heterostructures Within"; Oleksandr Bubon, from Lakehead University, was awarded 2nd place for his presentation entitled "Measured Electron-Hole Pairs in Amorphous Selenium Energy Creation (a-Se) at High Electric Fields using Pulsed-Height Spectroscopy Method"; Gabriel Droulers, from the Université de Sherbrooke was awarded 3rd place for his presentation entitled "Planar Tunnel Junctions: A Time Stability Study". Réjean Fontaine and Luc Fréchette, from the Université de Sherbrooke and members of ReSMiQ, were in the organizing committee of the conference in charge of the student awards.
The 9th NAMIS international summer school
The 9th NAMIS graduate school was held from 29 June to 3 July 2015 at Polytechnique Montréal. It hosted more than 50 participants from 9 countries and more than 20 speakers. The mornings were devoted to lectures on microsystems covering subjects in the fields of materials, energy, microfabrication processes, optics, biomedical applications, and electronics. The afternoons were dedicated to poster sessions, flash presentations, hands-on workshops, as well as a team competition and laboratory visits. On monday evening, a welcome reception was held at Polytechnique Montréal and a dinner barbecue was held on Wednesday night. Thursday evening, all participants were able to attend the Montreal Jazz Festival.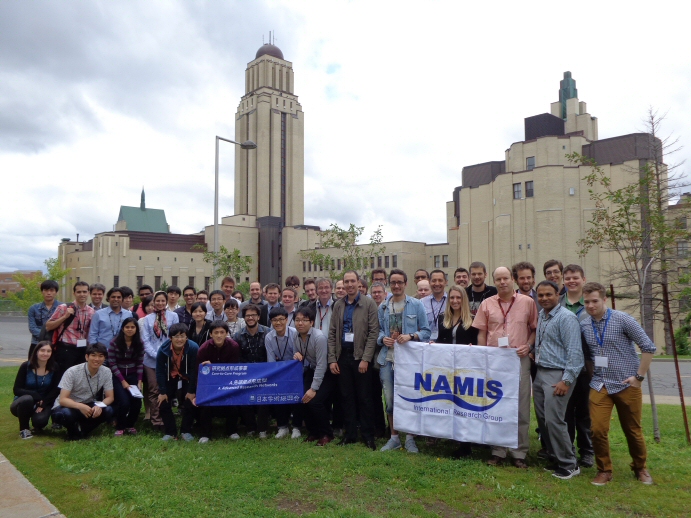 The 4th golf tournament of the Quebec electronic industry
On June 18th the Table de concertation de l'industrie des systèmes électronique du Québec (CISEQ, RIE, C2MI, AMEQ, CIMEQ et ReSMiQ) organized the 4th edition of its annual golf tournament. During this activity, industry representatives perform a life demonstration of a new and innovative product. Participants attended to the presentation of recent innovations such as the Jaco Kinova articulated arm, and the biometric and smart clothing by OM Signal. The day ended with a golf tournament during which people in the industry met in an atmosphere of relaxation and conviviality. ReSMiQ was represented by Prof. Daniel Massicotte and the industry liaison representative Louis Bélanger.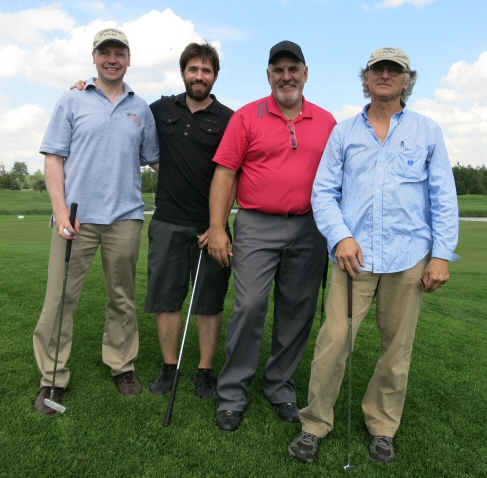 NEWS FROM OUR MEMBERS
Exposure
– Dr. Sawan from Polytechnique Montréal offered 2 invited talks: At the launch of Noos in Montréal on July 28, and at the Catholic university of Leuven in Belgium, during the month of June.
Details for Noos
Achievement
– Dr. Tahar, from Concordia University, have one of his recent articles recently selected to be publish in ITeNews of the IE Society.
– Dr. Gosselin, from Université Laval, received an ENGAGE grant from NSERC with the company Hexoskin.
More details

– Dr. Gosselin, from Université Laval, and Dr. Sawan from Polytechnique Montréal have one of their recent articles published in the IEEE Trans. on industrial Engineering featured in the Innovation spotlight of IEEE Xplore. More details
– Dr. Tahar from Concordia University supervise Ibtissem Seghaier who received the award for best paper at the IEEE International Symposium on VLSI held in Montpellier (France) last July.
Involvment
– Dr. Peter from Polytechnique Montréal organized NAMIS 2015 in Montreal, from June 29 to July 3rd.
– Dr. Martel and Dr. Sawan from Polytechnique Montréal, Dr. Izquierdo and Dr. Blaquière de l'UQAM, Dr. Fréchette from Université de Sherbrooke, presented lectures at NAMIS in Montréal, from June 29 to July 3rd.
More details

RESMIQ'S ACTIVITIES
Scholarship competition
Scholarships for graduate students
ReSMiQ Scholarship and supplementary scholarship
APPLICATION DEADLINE: September 8, 2015
More details
Scholarship for post-doctoral fellow
APPLICATION DEADLINE: September 8, 2015
More details
Financial support for graduate students
APPLICATION DEADLINE: October 19, 2015
More details
---
SIGNAL is the main monthly information medium of the Microsystems Strategic Alliance of Québec (ReSMiQ). This newsletter aims to be an active link between the members of ReSMiQ and all individuals who have an interest in research and innovation in microsystems. We commit ourselves to promote in it our members' research and increase ReSMiQ's visibility.
ReSMiQ is a group of researchers in an interuniversity research center that can count on the support of the Fonds de recherche du Québec – Nature et technologies (FRQNT) and ten (10) Quebec universities involved in microsystems research.