2014 annual report and general assembly of members
Our latest annual report is now available (2014 annual report). Also, we remind all members of ReSMiQ that our next general assembly will be held on May 7, 2015 at Polytechnique Montréal. We will present the annual report of our activities and elect the members of the executive committee as well as the board of directors for 2015-2016. The attending members will vote on the Director's election for the next term.
Financial support of our strategic cluster
The management team of ReSMiQ is expecting the decision of the Fonds de recherche du Québec – Nature et technologies (FRQNT) pertaining to the grant renewal application for our strategic cluster which should be announced very soon. After sending the letter of intent in May 2014 and a full application in October, we met with the visiting committee last January. The center's management would like to thank everyone who contributed in the growth of ReSMiQ and provided a considerable effort in the production of this application. Also, we take the opportunity of the results of the latest NSERC discovery grant program to congratulate all our members who have just renewed their grant this year and particularly all applicants who saw a significant increase.
NEWCAS2015
The 13th edition of NEWCAS will be held in Grenoble on June 7 to 10. The call for papers has generated a record number of 326 articles submissions. We encourage all our members to participate in the next edition. ReSMiQ will, as for every edition, provide a valuable financial assistance.
4th edition of the ReSMiQ Innovation day (RID2015)
The 4th edition of the ReSMiQ Innovation Day (RID) will be held on October 15, 2015. This competition is open to all full-time students enrolled in a university or a college/CEGEP in the province of Québec. The call for project has been sent out and all students interested in showing their research can submit it until May 4, 2015. We are counting on all members to encourage their students to participate and circulate this announcement among their colleagues in connected fields.
More details

ISCAS2016
The organization of the 2016 edition of the IEEE International Symposium on Circuits and Systems Conference has started this month with the first formal meeting of the local organizing committee with representatives of IEEE Meetings, Conferences & Events (MCE ), Tourism Montreal and representatives of the Sheraton Montreal. A special delegation will be present at the 2015 edition in Lisbon month of May to promote MOntréal and ISCAS2016. Thus, the technical committee will take the opportunity to meet and establish the conference program.

ReSMiQ Seminar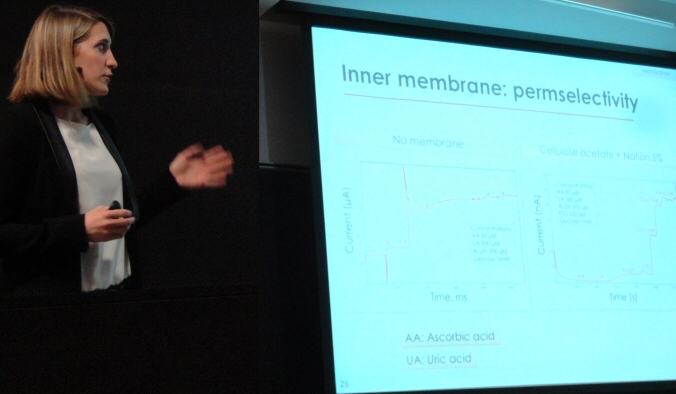 Camilla Baj-Rossi from the École polytechnique fédérale de Lausanne in Switzerland presented a seminar entitled "Implantable Device for Monitoring Drugs and Metabolites in Small Animals for Applications in Personalized Medicine" at Polytechnique Montréal, organized as part of our continuing training program in collaboration with the IEEE Montréal's chapter of the Solid State circuit society (SSCS) and the Circuits and Systems Society (CASS).
See the abstract
NEWS FROM OUR MEMBERS
Exposure
– Dr. Savaria from Polytechnique Montréal is visiting the ENSEIRB-IMS Laboratory at Bordeaux, France, as invited researcher.
– Dr. Savaria from Polytechnique Montréal presented an invited seminar at UNISTRA of Strasbourg, France.
– Dr. Sawan from Polytechnique Montréal is chairing for two years the selection committee of the IEEE Biomedical Engineering Award.
More details
Achievement
– Dr. Lakhssassi from Université du Québec en Outaouais received an ENGAGE grant from NSERC with the TRIFIDE Group.
More details
– Dr. Ahmad from Concordia received the IEEE Circuits and Systems Society 2015 award for chapter of the year in Region 1-7.
More details


RESMIQ'S ACTIVITIES
Intensive course
ReSMiQ and the Chapters of the IEEE Solid-State Circuits Society (SSCS) in collaboration with the IEEE Circuits and Systems Society (CASS) invites you to attend the following seminar to be held on May 14, 2015, at 10:30 AM at Polytechnique Montréal.



Speaker: Carlos Galup-Montoro , Universidade Federal de Santa Catarina (UFSC), Brazil
Title: Ultra-Low-Voltage (ULV) IC Design
Abstrac and biography
ReSMiQ annual symposium
Date: Mai 29, 2015
Place: Université du Québec à Rimouski (UQAR) Rimouski
Important: Transport and lodging for our members will be partially supported by ReSMiQ through a financial support of 200$.
Registration instructions and programme détaillé

Scholarships and awards
– Microsystems Experimental Demonstration Competition
Undergraduate and graduate students are invited to demonstrate their scientific and technical expertise during the 4th edition of the ReSMiQ Innovation Day by submitting their project. More than 5 000$ in awards.
APPLICATION DEADLINE: Mai 4, 2015.
More details
---
SIGNAL is the main monthly information medium of the Microsystems Strategic Alliance of Québec (ReSMiQ). This newsletter aims to be an active link between the members of ReSMiQ and all individuals who have an interest in research and innovation in microsystems. We commit ourselves to promote in it our members' research and increase ReSMiQ's visibility.
ReSMiQ is a group of researchers in an interuniversity research center that can count on the support of the Fonds de recherche du Québec – Nature et technologies (FRQNT) and ten (10) Quebec universities involved in microsystems research.