SIGNAL is the main monthly information medium of the Microsystems Strategic Alliance of Québec (ReSMiQ). This newsletter aims to be an active link between the members of ReSMiQ and all individuals who have an interest in research and innovation in microsystems. We commit ourselves to promote in it our members' research and increase ReSMiQ's visibility.
ReSMiQ is a group of researchers in an interuniversity research center that can count on the support of the Fonds de recherche du Québec – Nature et technologies (FRQNT) and ten (10) Quebec universities involved in microsystems research.
In this issue we present you the news for the month of February 2014.
New format for SIGNAL – As more and more web user are browsing on mobile platforms such as digital tablets and smart phones, we decided to renew the format of our monthly newsletter SIGNAL for a more user-friendly reading. Do not hesitate to send us any comments that could help us improve the quality.
Seminar – Dr. N. Luvig from the Department of Neurology at the NYU Langone Medical Center was in Montreal where he presented a seminar at the Ecole Polytechnique de Montreal organized by the Polystim Lab at Polytechnique Montréal and ReSMiQ. The seminar entitled "Subarachnoid Pharmacodialysis Implant for cerebral cortical disorders" was attended by about 25 graduate students.
See the abstract.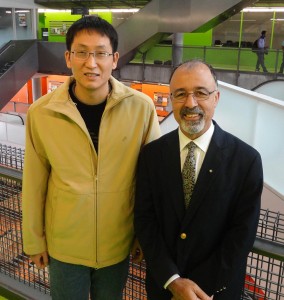 Intensive course –  Dr. G. Rong from the Shanghai Jiao Tong University was in Montréal where he presented an intensive course entitled "Label free biosensors and applications in frontier research" at the Ecole Polytechnique de Montreal, organized by Montreal Chapter of the IEEE Solid State circuit society (SSCS) and ReSMiQ.
See the abstract.
NEWS FROM OUR MEMBERS
Achievement
– Dr. Fréchette from Université de Sherbrooke and Dr. Peter from Polytechnique Montréal are co-recepient of a Collaborative research and develpment grant from NSERC with a contribution from PROMPT and Teledyne DALSA.
– Dr. Martel from Polytechnique Montréal supervised Dominic Lanauze in the biomedical ingineering program, recipient of the best master thesis award.
Involvement
– Dr. Sawan from Polytechnique Montréal is the technical program co-chair of the International Humanitarian Technology Conference (IHTC) to be held in Montréal from June 1 to 4, 2014.

RESMIQ'S ACTIVITIES
To stimulate integration of new students within the affiliated laboratories of ReSMiQ holds annually a financial support competition for undergraduate full time students.
Characteristics
– Duration of three (3) months.
– Starting May 1, 2014.
– 2000$ for the whole duration.
Application information
Applications must be received at ReSMiQ's administrative office on April 7, 2014 at the latest. Applications must be submitted in PDF format via the online submission page.
Details about eligibility and application